Shopify Payment Gateways in Pakistan - Podcast # 7 - Muaaz Zubairi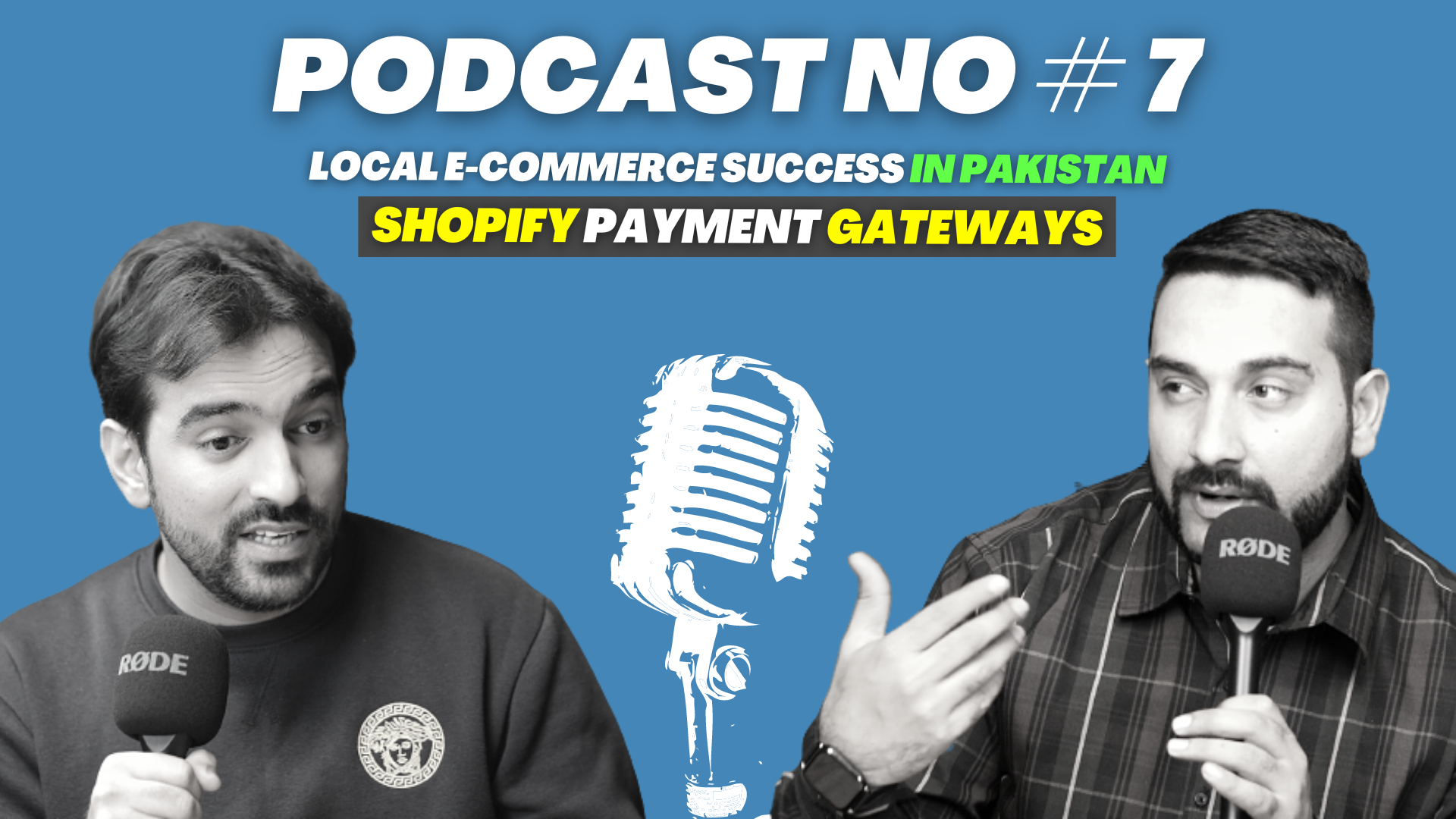 In Pakistan following are the payment gateway platforms for Shopify:
Unumpay by Alchametives.
Paymob.
Payfast.
PayPro.
Easy Paisa.
Jazzcash
Direct Integrations through Shopistan or Alchametive teams.
This section explain how you can integrate the Shopify payment gateways in Pakistan for your website on Shopify Platform. In order to explain it better, we have created a complete video guide:
This video is about Shopify Payment Gateway options in Pakistan. If you have a Shopify website and want to know about how one can have an online payment gateway at the Shopify website in Pakistan then this video is for you. The guest invited to this podcast was Mr. Muaaz Zubairi.
Muaaz Zubairi is the Group Manager of Ecommerce at Master Group of Industries. He explained how one can make online e-commerce sales of products which is of very large sizes. When you have a high bucket and order value size, then you have to and you are bound to take payments in advance.
For the furniture market, home fashion, mobile industry, mattress industry, and products having high ticket items you must have to take payments in advance or via online transfers and via credit or debit cards. In Pakistan, Shopify payment gateway options are very few.
The understanding to choose the right payment gateway for the Shopify website is very scarce and confusing in Pakistan. Muaaz Zubairi explained Unumpay by Alchametive, Paymob, Paypro, pay fast, easy paisa, JazzCash, and much more and which one is best among all to use as a payment gateway in Shopify website in Pakistan.
He explained the advantages and disadvantages of each payment gateway to use in Shopify.
In this section you will learn about local ecommerce in Pakistan:

• Introduction to Shopify.
• Introduction to Muaaz Zubairi.
• Journey of Muaaz to E-commerce.
• How to Sell Hard and Huge Products on E-commerce in Pakistan.
• Marketing Spent on High Ticket Items.
• Daraz Highest Sale of MoltyFoam.
• Second Highest Selling Category of Daraz on 11,11 Sales.
• Which Platform is Best for Local E-commerce in Pakistan.
• Why Shopify is the Best Website-Making Platform in Pakistan.
• Which Online Payment Platform is Best for Shopify in Pakistan.
• Different types of Payment Gateways in Pakistan for Shopify.
• How can you take online payments without a credit card.
• What is Buy now pay later in local e-commerce in Pakistan.
• How to sell expensive products online in Pakistan easily.
• Which is the best App on Shopify in Pakistan.
• What is Door To Door E-commerce Sale in Pakistan.
• Delivery Charges for Bring Store at the Door E-commerce Sale by MoltyFoam.
• How to make separate delivery charges on Shopify for different cities.
• How to use Ai technology on Shopify Websites in Pakistan.
You Can Watch Complete Video Here a Below: